Hostel Tips for Boys : New things in life are mostly an amalgamation of fun and responsibilities and colleges are no different. The life at college can pretty much be summed up in two feelings – first, the feeling of freedom and second, the really overwhelming feeling of responsibilities towards yourself, your career as well as your family. The list of emotions can be way longer if you are going to be a hostelier. The homesickness, excitement and search for you own place in a completely different environment than that of your house is as magical as it can get. Changing your city, your room, leaving your friends and family back in hometown and moving to city not your own can be a bit overwhelming and there's no reason to feel bad about it because it happens to almost all of us.
But hostels in college life isn't just about leaving things behind and using your freedom to have fun. It's much more than just college friends having fun and this adulting can take a toll on you. But don't worry this is exactly why CampusVibes is here. Keep reading to get some amazing tips and life hacks to survive in college hostels.
Here are a few hostel tips for boys for their hostel life
1.First and foremost : Forget the home rules
Everyone becomes habitual of the daily rituals at home. But the point is, most of our work is done by our parents and so, to be the guy who is responsible enough to start a new life in  new city, you've got to get accustomed with the new challenges every day. From cleaning to washing to cooking, have some basic chores-talent ready when you step in a hostel. Trust me you'll thank us later for this tip.
2. Home made food all the way!
YES! The one thing you must make sure when you live in a hostel is to have yourself a bag full of homemade food. It can be anything. From chips to crackers to any kind of snack. Because the chances of your mess food being tasteless is 99.9%. So do yourself a favour and pack some "mummy ke haath ka khana" and dry fruits to give yourself the subtle happiness on bad-food days.
3. Make localite-friends
Because why not. Localites of your college are going to be the best people you'll meet. They can take you to good places, accompany you to discover the beauty of the new city. Not only this, their families will be your family in the unknown place and trust us, this bond of families in a complete different city than your own is a blessing in itself. And let's be straight, you would get some homemade food frequently and who doesn't want that. 
4. Cleanliness Boys!
GUYS PLEASE. You know how boys hostels are always a center of repulsion when it comes to cleanliness? No we don't believe all of you guys are like that but don't make mistakes of not having proper hygiene in you room as well as in the dorm area you live in. Make sure you wash your clothes regularly or get a laundry service, make sure you have dustbins and good trash facility working for the hostel. And yes, smell good you know, ahem ahem, college – crushes.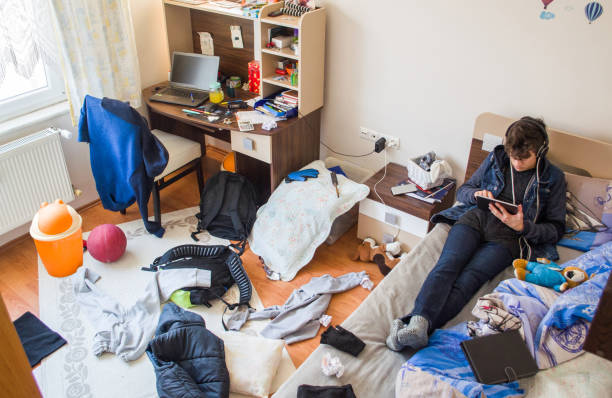 5. F.R.I.E.N.D.S
When you're settled and ready, observe people around you like your roommates, hostel mates and college buddies. Make sure you make a lot of friends to have endless fun with but don't sacrifice the quality for quantity. Ensure that people you're hanging out with are good and then go on to strengthen the bond. Don't hurry it, be a nice guy and let it do it's magic it's not rocket science, right.
6‌. But make sure you know where to stop
Making friends is great and it's necessary when you're outside home. They take care of you, have fun with you and become family. But don't be the guy who ruins everything because of some bad company. If you suspect anything out of line, confront them or just walk away. College hostels are a bit risky if you don't know your limits. Don't let your friends push you into doing stuff you don't want to do. The true friends will understand and who won't, were never your friends.
7. Be-friend the hostel caretakers/guards
HEAR ME OUT! You know the "college main gate ke bhaiya" or "mess wale didi bhaiya" and most importantly hostel warden. Befriend them all. It will not be easy and probably would take you a whole month to build a relationship with them but trust us, once it's done you're sorted. Some leniency in time, food and fun. Now who wouldn't want that.
8. Learn the art of declining
"Learn to say NO without having to give an explanation." Being in a hostel, it's always difficult to refuse something. However, it's very important for college students and specially people who are living away from home to have some limits. Learn to decline things you don't want to do without feeling bad about it. It will be a little awkward and unfriendly at first but everyone will gradually understand and most importantly you will not be in an unwanted situation.
9. Core – Chores talent
Always boys! Just because your mom did everything at home doesn't mean you will always be dependent on somebody for your regular chores. Have some skills in washing, cleaning and cooking at least. It will not only decrease your expenses and save you some bucks but will also help you become an independent adult. Trust me.
10. Avoid over spending
Money can be a big deal if you're living away from home. From college and hostel fees to small monthly expenses, you'd not even know and boom, money's all gone. So make sure you eat in the mess as much as you can or make some food yourself, take public transportation often and don't do too much outing, it'll hurt your pockets.
11. Don't hide your emotions
Don't be the pretentious tough guy who never feels anything. It's obvious to miss home when you're away or needing somebody to share your feelings with. Don't shy away and call your parents as often as you can, let them know you're doing fine and most importantly make yourself feel better. A little sharing won't hurt.
12. Privacy, please!
Guys always have those buddies who are legitimately shadows of each other. However when in a college hostel ensure that you're giving the other person enough privacy. Don't get beyond their personal space. Similarly, don't let people ruin your privacy too. Be smart enough to know what to share with others and what to keep it to yourself. It's a life hack – don't be too open to be spoilt easily.
13. Get your priorities straight
College hostels are tricky. Moments there are the best and most important times of one's life. It not only gives you memories for life but is also a place where you build your career. Make it your habit to prioritise things. Don't let the freedom, fun and excitement ruin your studies. And you know what they say, you can do everything if you do it in moderation.
14. Redeem yourself with responsibility
Don't regret the mistakes you've done in your school or troubled your parents, now that's it's college and everyone know how much responsibility living in hostel needs. Be a mature adult and redeem everything by being the responsible person that you must be. Be responsible towards your parents and your career.
15. Make exceptions to expectations
Very important. Now that you are not a teen and so is not everyone else, don't have unrealistic expectations from people. Everyone is an adult and everyone has a life, don't be disappointed or dishearten yourself if someone doesn't match up to your presuppositions. Always count on yourself and let people have their own life and deal on their own terms.
16. Expand your movie collection
‌If you're a college student living in a hostel, there will surely be days of depression and tension (mostly during exams lol) so make sure you have your own theatre in your room/dormitory. Have good movie of the genre you like and your gloomy days will bloom in a second. Come on what's better than a good movie with some good friends.
17. Learn some cooking too
No, we don't want you to be a master chef but the percentage of uncertainty of your mess food being bad lies anywhere around 99-100%. So make sure you know how to make easy snacks and healthy food when you're in hostel. Anything light and healthy will always be better than tasteless food. And when everything fails, maggi is always there to rescue you.
18. Make sure you taste the city till you're full
Don't live a tasteless life in the new town. Be a little adventurous and explore the city as much as you can. Eat from all the famous spots, explore all the tourist places and make sure you don't forget to learn to cook at least one local recipe and talk at least one sentence in the local language (although the more the better)
19. Academically blessed friends 
Don't be selfish but always look out for things you can learn from your friends. To survive college and hostel days, make sure you have some really focused people and toppers in your group. The company you hang out with forms a huge part of your personality. And you know college has a lot of assignments and having friends like that will… You're smart you know what we mean.
20. Just enjoy
The last but definitely not the least. The one major life hack to survive college days is to just have fun. These are the best days of your life and you'll miss it when you leave. So be a good guy, forgive people, forget grudges and live your hostel days unapologetically.
Living in a hostel is not less than a rollercoaster. It has its own perks and drawbacks. The little chats over a long night or the epic hostel escapes, missing home to finding a new family; it's all a big mess but the right kind of mess!! Keep these points in mind and enjoy your hostel life to the fullest!
hostel tips for boys, hostel life, hostel essentials, college hostel life, hostel experience, how to study in hostel room, how to live in hostel without family, tips for hostel life for boys